In celebration of the paperback release of HOW WE FALL, today I've got Part 2 of the interview with Kate Brauning. For Part 1, see Miss Riki's post over on Refreshingly Riki. My questions will focus on the craft elements of Kate's writing and editing.
Kelly deVos: Having a paperback release follow a hardcover release is a pretty big achievement for an author since it generally means that the initial sales and reception for the book were very positive. What was this process like? Does your paperback release feel different from your hardcover one?
Kate Brauning: Great question. The process was wonderful, actually. I had such a great team behind the book that everything from the development of the cover to signings went pretty smoothly. Of course, I was wracked with nerves, and it was a steep learning curve, and I was so worried that the book wouldn't do well because of the concept. But as I learned to adjust my expectations, deal with my nerves, and move on to writing new things to keep me sane, it became easier to handle. The hardcover release was special because it was the first—while I insist that all writers are authors, published or not, I had reserved thinking of myself as an author until my book hit shelves. So it was a special moment for me. And the paperback release is special, too—a new format, a new chance to hit shelves. I want to give the book its best chance to find readers who will enjoy it, and the paperback is an awesome way for that to happen.
KD: A lot of people have commented on how beautiful the cover of HOW WE FALL is. What was your role in the cover design? How did the design come about?
KB: Technically, my publishing house didn't have to involve me in the design. I didn't have any particular image in mind when they asked if I had any preference, so I took a bit to thinking about it. Given the suspense element, I wanted darker colors, and I didn't want faces on the cover. But the more I thought about it, the more I thought I'd like an object on the cover, and so I started thinking through items and locations that were important to the story. The creek, rain, gravel roads, the bracelet, old farmhouses, and several other things made it on to my list, and I sent that off to my editor. The cover designer took all that and made an awesome design. I love, love, love it. J
KD:  You also work as a Senior Editor for Entangled and as a freelance editor. How do you juggle all these different roles?
KB: Figuring that out is an evolving project. I try to plan ahead as much as I can, I use Toggl to track my time on various projects, and I have been trying to pay close attention to what I have the energy for and am excited to work on each portion of my workday. My work is better and takes less time when I do that. I have to pretty fiercely protect my concentration, but each job makes me better at the other, using the same or similar skills in different ways. Of course, to keep from burning out, I have to guard my reading time and maintain balance as much as I can, which does not always happen. It's a lot of work, but I love it.
KD: Let's talk about setting. The book is set in a small, rural, Southern town. Why did you choose to place the action there?
KB: The book is set pretty much where I grew up. The town is fictionalized, but the area made a big impression on me, and I got a bit homesick for it after I went to college. When I wanted to write about this big, combined, produce-farming family, it seemed like a natural setting. Having lived there enabled me to write in detail, too, about area quirks and issues, which is something I love seeing in fiction.
KD: A good Southern Gothic YA project is also on your #MSWL as an Entangled editor. What is it about Southern rural that appeals to you as an editor or a reader?
KB: The south means home to me. It's familiar, it's rich in history, and it loves rumors, legends, and superstitions. To me, it's expressive, colorful, and often oddball. The rural south, especially, to me means self-sufficient people who work hard, where family (and all the heartbreak, conflict, and frustration that can come from that) plays a big role in where we go and what we become. And it carries a little danger—superstitions, family, and the isolation of a rural environment can be by turns charming or a trigger for something much darker.
KD: What's up next for you as an editor?
KB: So many things! I'm working on a fantastic list of books (and always looking for great ones to acquire) that I'll be shouting about on Twitter, but I'd particularly love for you all to watch out for THE SOUND OF US by Julie Hammerle (Pitch Perfect meets Art Girls Are Easy) and Ingrid Paulson's MY NAME IS SUMNER LANE (10 Things I Hate About You meets The Disreputable History of Frankie Landau-Banks). They're both hilarious and insightful contemporary YAs with girls who are going to take the world by storm. Brilliant reads, both of them.
Here's a bit about HOW WE FALL:
Ever since Jackie moved to her uncle's sleepy farming town, she's been flirting way too much–and with her own cousin, Marcus.
Her friendship with him has turned into something she can't control, and he's the reason Jackie lost track of her best friend, Ellie, who left for…no one knows where. Now Ellie has been missing for months, and the police, fearing the worst, are searching for her body. Swamped with guilt and the knowledge that acting on her love for Marcus would tear their families apart, Jackie pushes her cousin away. The plan is to fall out of love, and, just as she hoped he would, Marcus falls for the new girl in town. But something isn't right about this stranger, and Jackie's suspicions about the new girl's secrets only drive the wedge deeper between Jackie and Marcus.
Then Marcus is forced to pay the price for someone else's lies as the mystery around Ellie's disappearance starts to become horribly clear. Jackie has to face terrible choices. Can she leave her first love behind, and can she go on living with the fact that she failed her best friend?
2015 Silver Falchion Best YA Novel finalist- Killer Nashville
Kirkus Reviews: "Debut novelist Brauning tells a touching story of young, star-crossed lovers caught in a drama they have tried hard to avoid…. A sweetly written mix of mystery and romantic turmoil."
School Library Journal: "Heartbreaking and well-paced, this mystery novel challenges readers to look past preconceptions and get to the know characters, rather than focus on an uncomfortable taboo. Brauning's characters are well developed and their story engrossing. An intriguing thriller… this title will raise eyebrows and capture the interest of teens."
ALA Booklist: "…an unusual combination of romance and suspense…There is also something universal about Jackie's struggles with her feelings and her desires, and readers will identify with her emotions, while going along for the plot's ride. This quest for identity, wrapped up in an intriguing mystery, hooks from the beginning."
How We Fall is available through: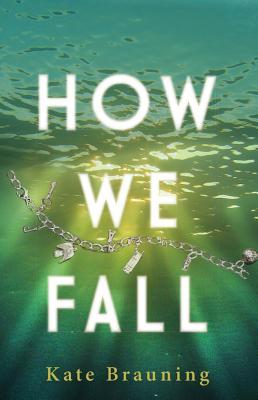 Author Bio:
Kate Brauning grew up in rural Missouri and fell in love with young adult books in college. She now works in publishing and pursues her lifelong dream of telling stories she'd want to read. This is her first novel. Visit her online at www.katebrauning.com or on Twitter at @KateBrauning.