Now available! (HarlequinTeen)
From debut author Kelly deVos comes an unforgettable novel, told in dual Fat and Skinny perspectives, about smart fashion, pursuing your dreams, and loving yourself.
High school senior Cookie Vonn's post-graduation dreams include getting out of Phoenix, attending Parsons and becoming the next great fashion designer. But in the world of fashion, being fat is a cardinal sin. It doesn't help that she's constantly compared to her supermodel mother—and named after a dessert.
Thanks to her job at a fashion blog, Cookie scores a trip to New York to pitch her portfolio and appeal for a scholarship, but her plans are put on standby when she's declared too fat too fly. Forced to turn to her BFF for cash, Cookie buys a second seat on the plane. She arrives in the city to find that she's been replaced by the boss's daughter, a girl who's everything she's not—ultrathin and superrich. Bowing to society's pressure, she vows to lose weight, get out of the friend zone with her crush, and put her life on track.
Cookie expected sunshine and rainbows, but nothing about her new life is turning out like she planned. When the fashion designer of the moment offers her what she's always wanted—an opportunity to live and study in New York—she finds herself in a world full of people more interested in putting women down than dressing them up. Her designs make waves, but her real dream of creating great clothes for people of all sizes seems to grow more distant by the day.
Will she realize that she's always had the power to make her own dreams come true?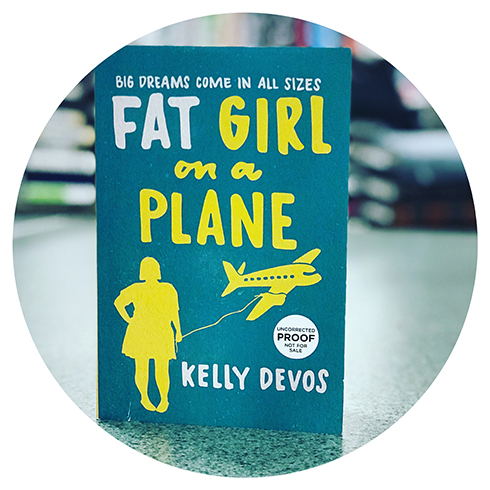 Stay tuned for more information on books coming in 2019 and 2020!
PRAISE FOR FAT GIRL ON A PLANE
"Bold, unique, and completely original, Fat Girl On A Plane is unafraid to stand up and take action. A debut both spirited and inventive, much like its indomitable heroine."
"A savvy, smart, and funny book about embracing your body and taking control of your destiny."
"Cookie Vonn is sharp, ambitious, and stubborn— everything I love in a main character. Her story is heart wrenching and funny and gutting and steamy and I loved every single word."
"Readers will appreciate deVos's characterization of Cookie, who realistically struggles to stay true to herself, regardless of the numbers on the scale. "